See All the Super pretty Dresses in Topshop's new Bridal Collection
BRB, swooning over bridesmaid looks from these Love Stories TV wedding videos.
By Vanessa M. Buenger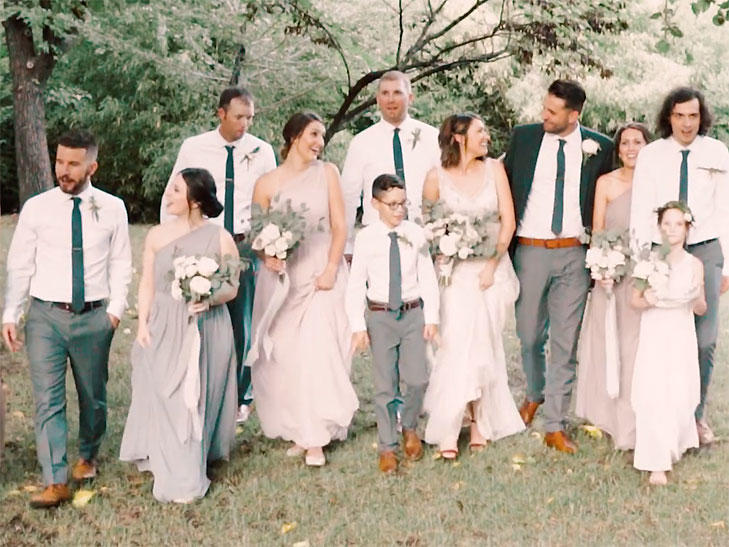 If youore worried the mix-and-match bridesmaid dress approach wonot turn out quite like youore hoping, the bridal party looks from these five gorgeous weddings from Love Stories TV jthe place to watch wedding videosjwill give you reassurance. Each features a perfectly coordinated crew who aced the mismatched dress trend. So whether you have a color palette in mind and want your party to choose their own style, or vice versa, youoll find tons of mixed bridesmaid style ideas here.
1. Kerith and Andy in the Don Morris Room at Marshall University in Huntington, West Virginia
Donot Kerithos bridesmaids look incredible? Theyore all coordinated with the perfect amount of shimmer, but they show off their individual styles through different colors, silhouettes and patterns.
2. jessica and Dustin at Webster Farm in Gilbert, Arizona
This bridal party proves that thinking outside the box is key to nailing the mix-and-match look. They opted for earthy jewel tones and coordinating separates to create an eclectic but cohesive ensemble.
3. Kelley and Ekahi at olowalu plantation House in Lahaina, Hawaii
The subtle difference in these pastel-hued bridesmaid dresses made for a beautiful ombrȦ effect when arranged in order during the ceremony.
4. janie and Garrett at Beaver Meadows Resort in Red Feather, Colorado
janieos bridal party embraced variety by wearing completely different dresses and patterns, while the harmony of colors in their floral arrangements helped each individual look complement the others seamlessly.
5. Kimberly and Stasen ? at Blueberry Hill Events in oklahoma City, oklahoma
See, having your party wear the same dress doesnot mean theyoll look identical! The way these ladieso dresses varied in color, with shades of gray and blush, created a soft and unique palette.
Vanessa M. Buenger is the head of growth at Love Stories TV ?, the place to watch and share wedding videos. Browse its library of curated and categorized real wedding films to get ideas and inspiration for your day. Share your wedding video on LoveStoriesTV.com ? to inspire others.?